Work In The 21st Century
For orders outside of the United States, please email us at [email protected]
This is the complete, unabridged workbook that Greg Vetter uses when he leads his nationally recognized two-day workshop, A Vetter Way® To Work in 21st Century, for companies including IBM, Morgan Stanley, and The Coca-Cola Company.
This workbook is for you if you are ready to eliminate the frustration of information overwhelm and create a system you will learn to depend on and appreciate for the amount of "found" time and energy Vetter's method guarantees.
Every concept and step to set up the best organizational system in your computer, e-mail and file drawers is included. A simple, proven method for your filing system, your desk and your office is clearly illustrated in steps you will be able to follow and accomplish. You will create an information flow using a unique process with your e-mail, and one with your paper. Finally, you will know exactly what you can throw away and the easiest way to make decisions about what to keep. You will learn four new ways to work, time-saving e-mail shortcuts and techniques, how to empty your desk Inbox in less than five minutes, and the only five items to keep on your desk.
This also includes a Glossary, review questions and answers, and a step-by-step section on how to set up your electronic and paper systems.
Related products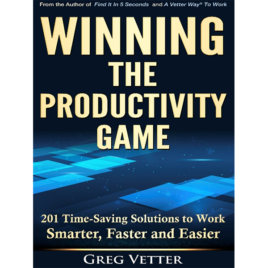 Winning The Productivity Game
For orders outside of the United States, please email us at
[email protected]
Are you BOMBARDED with information, interruptions, and requests?
V
etter's tips for victory in Winning the Productivity Game are succinct and easy-to-follow. Full of real-life examples, this is not your typical time management book. In a humorous and engaging style, Greg Vetter will challenge everything you think about productivity, and show why his radical approach is a game-changer.
T
hese 201 time-saving tips, will help you:
Increase your work output, not your work time
Find a significant amount of time to work on what's really important
Enjoy immense freedom from the tyranny of the urgent
Lessen the time you spend on daily organization
Have each day feel less stressful and more rewarding
G
etting and staying organized can feel like a game that is rigged against you. For over 25 years, Greg Vetter has helped workers in all areas learn how to process the overload of information, and how to produce critical results which lead to promotions, increased revenue, and more personal time.
WITH SMALL CHANGES COME BIG RESULTS!
T
he practices you have used to get you where you are today, are not sufficient to take you to the level you could achieve, nor will they be sufficient for you to handle the onslaught of information when it doubles in the near future.
W
ith small changes come big results—this book is for you if you are ready to quickly adopt new, simple, and proven work habits that will produce results that you've never before believed you could achieve.
"In Winning the Productivity Game, Greg Vetter zeros in on helping to make us better by improving our focus, process, and productivity. I've been a disciple of Greg's for over a dozen years. From making sure we take time out of every day for quiet and 'alone-time' to plan our days and weeks ahead, to making sure our in-boxes are always strategically and efficiently processed and emptied…this system helps to develop a sense of achievement and accomplishment to make us more productive and happy leaders."
Geoffrey A. Ballotti President and CEO Wyndham Hotel Group
"Greg Vetter has captured the essence of productivity with humor. Who would have thought that a productivity book could be so much fun?"
Laura Stack President, The Productivity Pro, Inc. Author of Doing the Right Things Right [icon icon=icon-book size=14px color=#000 ] 
CLICK HERE FOR SAMPLE CONTENT
not rated
$

19.95
Add to cart